Kanye West – Yeezy, the man behind the demiurgic and gifted music that is tasteful & clever. Never once is Kanye's mind ever unproductive and till hell freezes over, he is stimulating talk & conversation.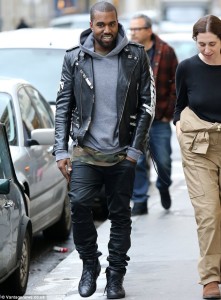 One that I could probably converge my attention on his spotlight for hours. Not only is his music a departure to meditation and rationalization, no one has ever spoken a word that his dernier cri is ever not vogue touchstone.
Of course, Kanye West's clothes are undisclosed exclusively to the man himself, but we decided to re-create his look without giving a mockery. Due to Kanye wearing his limited Yeezy YSL jacket, you can purchase the similar biker jacket on YSL if you're at death's door for this look. Otherwise, we put a similar jacket that is much under price below with the other threads.
 For all you Louis Vuitton Don Torontonians, he will be performing twice in Toronto at the end of THIS month, which you can view tickets here: www.ticketmaster.ca/Kanye-West-tickets/artist/885590 
 The Threads:
 Jacket – H&M Black Biker Jacket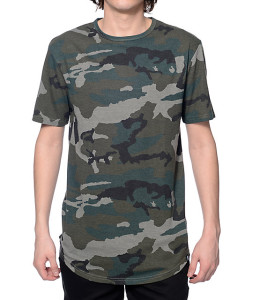 Sweater – TOPMAN – Grey Salt &
Pepper Classic Fit Hoodie 
Shirt – ZUMIEZ – Ninth Hall High Rise Camo Curved 
Pants – Diesel P-Thavar- L Pant
Shoes – J&M Allister High Tops ( Purchase at Nordstroms – Online Sizes from 8-13)
To complete this look, you will need a Kanye Nickname: kanyenickname.com