To be short there was no need for me to fill the article with my words, when there is a story that is as unique as Takahito TK Nakamura, possibly known to you as Duckman. If you are a downtown Toronto weekend hopper, you might have seen Duckman on the drums outside of the Eaton Centre, or playing close to that Dundas location. This is where I first spotted the extremely positive, bright and uplifting gent on the drums and I knew just by looking at him, there was more to Takahito than just a costume and making people smile.
The backstory Takahito sent of his journey till now is more than one could possibly imagine coming from this colorful individual:
Takahito TK Nakamura is a 24-year-old entertainer. Despite the fact that he couldn't speak any English two years ago, he has been able to learn not only how to communicate using English, but also the rare gift of making people laugh, no matter their language or culture. His road to becoming an entertainer was far from easy, and his difficult life started from when he was born. Not only did he lose both of his sisters- one to an illness contracted from his mother and the other in a car crash – but also his father, who left him and his mother after getting a divorce. He was too young to remember those three family members who disappeared from his life.
But that was only the beginning of his struggle, as his mother was unable to raise him and he ended up in a child care facility. Needless to say, life there was difficult, and it was not made easier as the other kids would bully him. At age 3 he was taken back by his mother, as she had been pressured to by her family and friends.
His mother, however, neglected him. She would come back to the apartment only once in a few weeks to give him some snacks. The rest of the time he would be all alone, as she was with boyfriends. No one taught him even the basic things about life – what is okay to eat and what is not. That is why he would eat things that weren't meant to be consumed, like candles and flowers, things attractive for children for their colorfulness. Clinically depressed and violent, his mother would abuse him physically when she was home, punching and even cutting him with scissors and knives. It was no wonder he was a very sad child.
He would walk himself to the school near his house, and his best friend was a boy living next door. He would climb to the balcony at their house to talk to him, but one day, the boy was no longer there. When he got a chance to talk to the boy again, he found out that they had suddenly moved away. Moved, because Takahito's mother abused him and yelled at him every night when she came back and his lonely crying was too loud and depressing for them. From that moment on, he decided to become a happy person – someone who would always be smiling, and was never sad or angry. At first, his smile was forced, his facade a complete lie, but after noticing that his smile was infectious and that he could influence other people, he got used to wearing his smile. The contagious smile. That fake smile brought him, ironically, many positive things, and that is why he become not only popular in school but was also the president of the student council in high school. He also studied hard so he could have the best grades in school.
It was during junior high school that Takahito got in touch with his grandparents on his mother's side. Living in Aomori, they were quite far away from Tokyo, where TK lived. It was quite an unusual thing that his grandfather used to be a part of the Yakuza (a type of mafia in Japan), and with their strict rules, had had to cut off his pinky finger (used for promising), when he wanted to exit the group and marry his fiancé – Takahito's grandmother – back in the day. Having a wife, or any sort of life that isn't connected to the group, was absolutely forbidden, and Takahito's grandfather had to go through the painful choice of cutting off a finger as a punishment to gain the life he wanted. That strong man knew the value of freedom, and so he and his wife decided to support Takahito by paying for his comedy school that he very much wanted to attend when he was in grade 6.
There, he could further learn how to make people happy by using his words and expressions, and with that, he also got chances to show his talents. He would play extra parts in TV dramas and commercials, and all of those experiences made him want to become a comedian. Being a comedian in Japan is quite difficult, however, as you are usually granted a very short time (maybe as short time as 15 seconds) to make someone laugh. They were taught that "If you're not able to make someone laugh in 15 seconds, you cannot make them laugh in 15 hours".
However, never giving up, Takahito went on to studying psychology in order to become a smart, educated comedian – a way he would aim to become the best comedian. Due to his high scores, he could work with a professor of Tokyo University for a time as well, and he volunteered to act as a counselor at his school, believing in his skill to make everyone happy. However, he wasn't prepared for the amount of people who were feeling depressed, and with how bad they were feeling, Takahito was unable to help them without starting to feel that depression move into him as well. Unfortunately, he also lost one of his patients. She committed suicide and he was there. She jumped off the building killing herself right in front of Takahito.
When he turned 18 (an important age in Japan), he wanted to find his father to show him that he had become a grown man now. Eventually, he found his father's landlord, who told him the news – his father had committed suicide years ago. With no one else to turn to, Takahito decided to find one of his mother's former boyfriends who had helped him when he was younger. Being a lawyer, the man had been able to grant Takahito the eventual ownership of the apartment he and his mother shared, knowing what a terrible woman Takahito's mother was. Wanting to thank him, Takahito went to visit him. The man had broken into tears and had shown him pictures of his childhood – a rare treasure as Takahito had thought none had been taken when he was a child.
Feeling ambitious, Takahito applied to study at Tokyo University as an official student, but he failed the test due to his non-existent English skills. That caused him to think of the best way he could study English in a relatively short time, and a mentor suggested to him to study abroad. With that goal in mind, he started saving up money from his bar-tending job, speed-dating organizing job…etc….10 different types of jobs, all so that he would be able to move abroad to study. He chose Australia, and his best friend at the time advises him to bring one of his comedic costumes, a yellow suit, along with him. Despite doubting the need, he brings the costume with him. A costume that would later become famous as Duckman in Australia, Canada, and throughout the rest of the world.
He travels to Australia, where he spends most of his days studying as much as possible, absorbing all new information like a sponge, and is able to rise from the lowest class to the highest during his three months period in school. Once school is over, he finds other things to do. He works for a little while at an Asian restaurant, but then one of his Japanese friends teaches him about busking. He tries it out, and does it a couple of times a week at first. He also tries working as a tutor at the time, but is eventually taken by the feeling he gets from busking. It is an ultimate way for him to make people around him happy, and he realizes that he can even cross cultural boundaries to make someone laugh. No matter deaf people or blind people. Elated by this new feeling, he starts aiming for the difficult goal of becoming an internationally known entertainer.
1. Where did the concept of your character first start?
I go by TK-Duckman and wear a bright yellow costume. Duckman never stops smiling and making people laugh and happy. When I first created the character, I started by going by "Chickenman" because I'm a coward without the costume, I'm just a chicken. I was busking as Chickenman but everyone started calling me Duckman instead. So I changed the name so that it was easier for people to remember me. I've loved the color yellow since I was a kid because I knew seeing yellow would make people happy by nature.
Why I chose duck is I wish I was a duck. Things would never run amok! Ducks are lucky, who wouldn't want to be a "ducky" when the very name rhymes with "Lucky"! I'm happy to be Duckman and I'll tell you why, you see because even with a little luck end of the day, I'm still a … "DUCK!
2. When did busking become apart of your journey? And what is the hardest part you find grabbing the attention of viewers passing by?
I started busking in Sydney Australia September 2, 2016. I lost my credit card and I had $6 in my hand, I had to stay outside for 2 weeks. It was cold and it made me realize that I wanted to do something else, something more before I die. I grabbed buckets and went to the street.
That's when I started Duckman. Busking on the street is harder than performing on a stage. Because people are not walking on the street to see buskers, they all have somewhere to go. I always try not to bother people. I make a lot of noise and I feel sorry for people who are just walking by. So I don't make people stop forcefully and I respect if they are not interested. It's not too hard to get attention from people but some people think I'm homeless since I play bucket drums. However, that's totally okay because I "was" actually homeless and I just want to make you laugh and happy.
3. When did you decide that Toronto was going to be apart of your stop? Do you see yourself being here long-term?
Why I chose Toronto is because Toronto is one of the most diverse cities and I love multiculturalism so much. That's why I chose Toronto, Canada. I actually had no idea about Canada at all and I was excited to come here. I also didn't know it was going to be negative 20…( before this, I had experienced 0 degree, which was the coldest in my life) I can see myself being here long-term but there are so many people who need my help, who need to be happy in the world. So I need to keep moving around the world. I'm actually planning on going to New York soon.
4. Your mission is to make people happy, with everything you do/have done what has made you the happiest throughout travel/ being an entertainer?
I've never felt happy or satisfied with myself. I just want to become better and better to make other people happy. Doing magic, playing the guitar, writing songs, singing, playing drums, and making jokes. Seeing other people happy is what makes me really happy.
One day, when I was busking, a woman who was in a wheelchair came up to me. She looked very mad at me and it looked like she was going to complain about me. I stopped playing bucket drums and I listened to her carefully. She seemed to be struggling to speak and coughed a lot, but she finally managed to tell me and said: "Thank you for brightening my life". A woman behind her, who was holding her wheelchair for her, told me she was dying tomorrow from cancer. So she wanted to come out and enjoy the sun. I tried not to cry but it meant the world to me.
My goal of becoming an amazing entertainer, and brightening peoples lives has challenged me to learn new things and always pushes me forward to become better. I look forward to going out to busk for everyone each and every day.
5. You really are the definition of ' jack of all trades' at the end of the day, how would you want people to remember you everywhere they may go?
It doesn't matter to me how I make people happy or how I'm remembered. People say "at the end of the day, people die alone so do what you want to do, live your life ". However, I reckon at the end of the day if people die alone, they will feel lonely so I want them to remember me. So I say something that they want to hear, I do something that they want to see, I am only here for other people. I just want to make people laugh and happy. If I'm healthy enough, I will play bucket drums as Duckman that people have never seen and made people laugh and happy. If I became deaf, I would love to mime to make people inspired and happy. If I became blind, I would love to sing and play the guitar for people to enjoy and be happy.  If I lost my legs, in a wheelchair I would go to meet people and would love to juggle balls and do some amazing magic show to make people fascinated and happy. If I lost my arms, I would love to do stand-comedy and talking every day to make people relaxed and happy. If I lost my voice, my sense of hearing, my sense of sight, my legs and arms, I would love to survive every day strongly to make people touched and happy. That's "the" entertainer I want to be.
6. Reading your biography, you have been through a lot, more than anyone could ever imagine walking past you busking. What is your motivation or a chat you have had with someone that stuck with you to keep going and follow what keeps you smiling?
I have a theory that I believe. It's going to sound a bit crazy but I'm from the future. I became 50 years old, I had no one to stay with me. I was working as a salesman in an office and I had a normal life. Some people respected me in the office but at the end of the day I just went back home alone and ate cup noodles alone and went to bed alone. I wasn't satisfied with my life, I wanted to be a musician, a dancer, an actor, a magician and an entertainer but I was already 50 years old. So I was telling myself "It's too late" I was sad and depressed and I felt useless. All of a sudden while I was sleeping, a huge light in the shape of a human came into my room and told me "TK. You have two options. You can stay as you are, or you can go back in time and be born again without any memory of this life". I was confused but I was also believed it for some reason. He said " If you are already satisfied with your life, you don't have to take the chance but once you choose, you can't come back". I said "Yes" immediately. And I was reborn to not regret living my life. I'm not religious and I don't have anyone who I want to be. I don't have the memory that the past TK had but I can feel something in me. There must be a reason to come back in time from the future. So I make a maximum effort every day and one day I want the "past TK" who was so useless to be as happy as I am. I don't want to waste my time, not even a second because I already wasted my entire life. I won't let it happen again. That motivates me to keep going on. That makes me feel like being better.
7. For those suffering from depression or another form of a mental health road-block, you formally studying psychology, What inspiration could you provide for others/youth that is reading this right now, even pressures of getting a major degree?
Don't overthink the phrase " Life is really short so do what you want to do" because, in order to know what you want to do, you must first learn what you dislike doing by doing what you do not want to do. Please don't rush yourself, keep trying and keep exploring at your own pace. Hating something doesn't make you immature as long as you are determined to be better. Don't be afraid of failure because it helps you succeed. You may think that what you are doing is complete nonsense, but along the way, you will encounter something that makes you feel "I want to do this !" if you keep making an effort. The more you fail and get back up, the quicker the time will come to you. Don't forget to keep trying. I was nothing when I was a kid but I'm something now and I'm doing what I want to do which is making people laugh and happy. I cried so much. I regretted so much. I lost myself. I felt devastated, depressed and disappointed with myself. Everyone has their own hardships in life, but we can't give up, keep pushing forward, I know you can do it and I'm here to support you. Know that you are never alone; I will be there to brighten your dark days. There is nothing wrong with loving yourself because you have only one life to live. Why do we have to be so humble? I know you can't be confident to love yourself because you don't have skills right now and you don't even know what you want to do in life. So Keep trying, keep failing, and keep moving forward. I promise you, our day will come.
8. Do you find yourself spinning situations/experiences into forms of comedy acts?
I always use myself for jokes and have been doing it since I was 6 years old. I like using my life because it sounds like a drama and people wouldn't believe it, so I always find it funny. I do standup comedy on my youtube channel, but I never swear or insult people in my jokes. So instead of cussing, I make fun of myself to make others laugh.
For instance, when I came to Toronto I wanted to open a bank account but I didn't know where to do that. So I went to a bar and asked a guy who was really muscular and had blue eyes. He was like "Tim's and TD are the best banks" He said it as a joke. But I trusted him and when I went outside, found Tim Horton's right in front of the bar so I went in and tried to make a bank account. I ended up making Tim's card and I deposited $200 because I thought that was a bank card. I went clothes shopping and tried to use the card and only then found out that it wasn't a bank card. I couldn't sleep for a month after that because I was drinking coffee every day in order to finish using Tim's card.
I wouldn't say anything sad about my life when I'm Duckman though!
9. What do you do in the off-season of busking?
There is no off-season of busking. I went busking when it was negative 15. I was fine, I just got frostbite, Haha. When it rains or snows too hard, I make songs and jokes at home, I also use the time to film videos and edit for my YouTube channel. I started teaching English in Japanese as TK-English with short videos online. It's a completely new character and I've been having so much fun discovering new things.
10. What is one or a few things off your "About Page" you would like to say to our readers?
Have a sweet dream like … maple syrup!! HAVE A NICE DAYYYYYYY *DAB*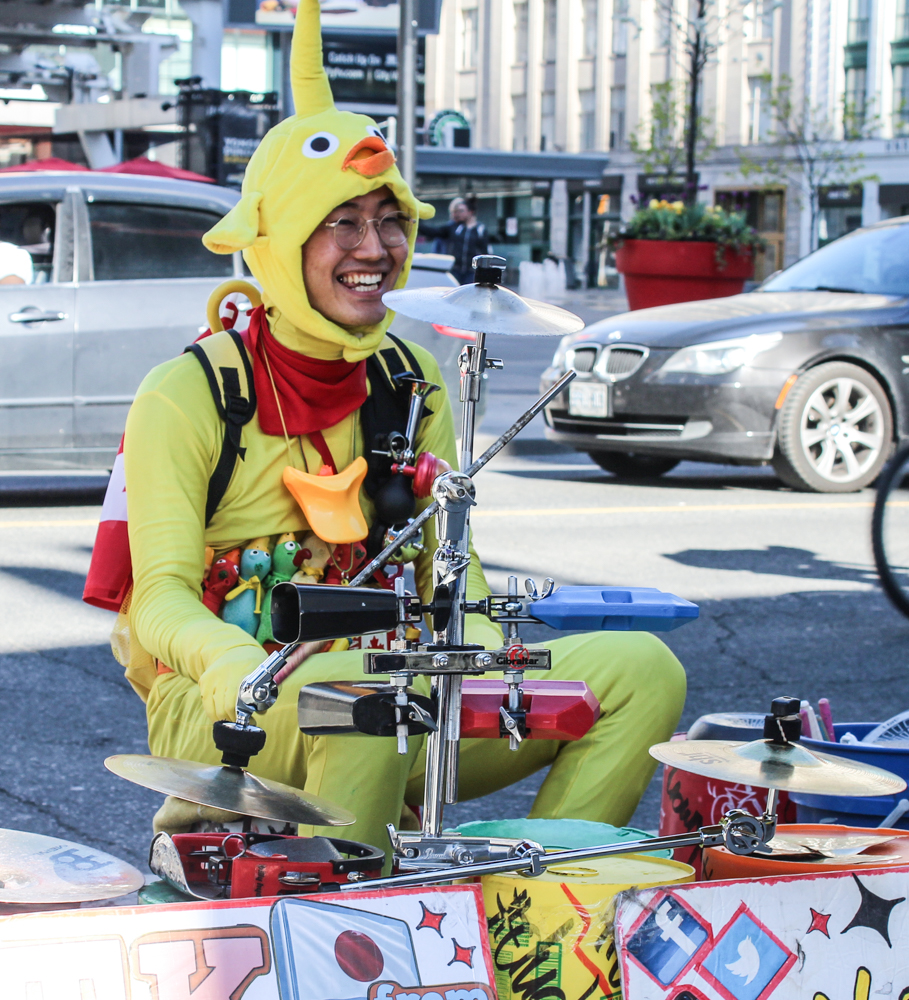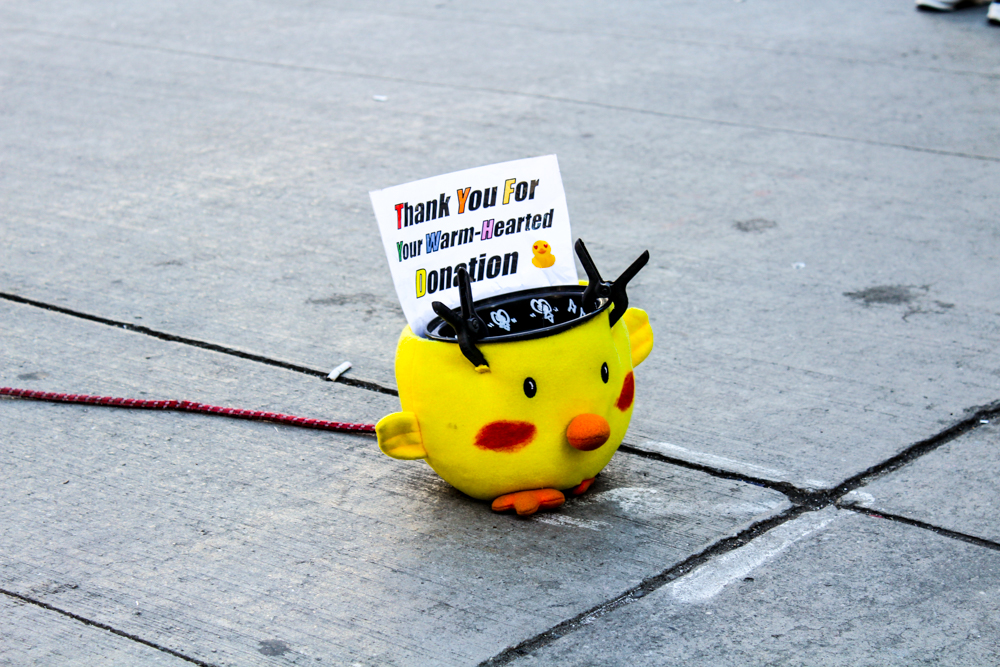 Check out his social media!
★★★★★★★★★★★★★★★★★★★★★★★
Facebook
https://www.facebook.com/tkentertainer/
Instagram
https://www.instagram.com/tkentertainer/
Twitter
Tweets by tkentertainer
GoFundMe (I wrote about myself here)
https://www.gofundme.com/tkentertainer
Official Website
http://tk-entertainer.com/
Interview Host/Written by: Sadie Kromm